Ok, well I'm not doing so well with my blog plans this week but there's still a couple of days to go so we shall see...
Today's 5 on a Friday, is 5 sewing tutorials I want to tackle.
1. I love this card/coin wallet on
Craft Passion
. One of these days I will make it but I need to improve my sewing skills before I tackle it. It's a great tutorial though,looks easyish to follow. I'm just not good at sewing that neatly so until I improve I'll keep this on my 'to make list'.
2. I was browsing my
Inspiration to make board
and came across this tutorial for a felt zippered pouch tutorial, which I don't even remember pinning! I end up pinning so much it's hard to remember everything though. But that's the whole point, you pin it so you can look back and find things. Making zippered pouches is a good way to practice my sewing skills and this is a great idea, cutting the edge of the felt with scalloped scissors. It looks so cute,and guess what, I happen to have a pair of those scissors! I love my
scalloped edge scissors
, they have come in so handy to pretty up different craft projects. Seeing this has given me some other ideas.
3. These pot holders are absolutely adorable from
Suzy sitcom
! I desperately want to make these as I LOVE cute vintage caravans. When I first looked at them I thought, god I could never make these, but actually its a brilliant tutorial and well explained. This is definitely on my to makr list once I've masted neater sewing skills.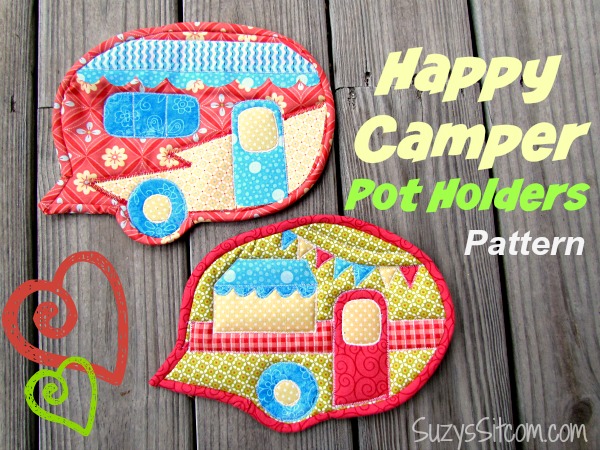 4. This cute messenger bag from
Pattern pile
, is a nice size and could be very handy.
5. I'm definitely want to make this
Fairly bucket bag
from Sew Mamma Sew soon. I love the shape of it, a great bag to throw over your shoulder when you're out and about. Something I forgot I had was a bargain purchase from a charity shop, eyelet/grommet pliers set. They cost all of £2, I'm not sure if I have the right size but I shall dig them out and hopefully I have. I'm gonna wait till I can buy myself an
edge stitch foot
! I've avoided doing any top stitching in my projects but from what I've read, this foot will make my life a lot easier.
Right, there you have it, 5 sewing projects that are on my 'to make list'. Have you got a sewing tutorial that you could recommend? May be one of you own? Leave the link in comments for me to check out.
Take care and happy Friday!