Time flys when you have a good book to read eh? So week four of the Hounded read along, hope everyone is enjoying Hounded! This weeks questions have been hosted by the fabulous Jen of
Right down to business then -
Week Four Chapters 16-20
1. Just after Atticus is shot, Oberon has to "ninja" his way out of the shop and into Hal's Beamer (with the icky air freshener). Have you ever been in a situation where you had to "ninja" your way out and try not to be discovered? If so, what happened?
Ok bad start can't think of any situations I have had to "ninja" my way out of???? Ermmmm, still thinking..... Oh, ok, there was one at work but it might sound really bad, it was several years ago and there was a patient who was a bit creepy and use to hassle us a lot. Me and the other nurse were on our way out and spied him so how to quickly back track on ourselves and as he was walking round one way we were sneaking out another! We were successful in our "ninja" like escape thankfully :)
2. Atticus's main goal through a large portion of the book is not only protecting Oberon, but also protecting the sword. You are now living in a paranormal world and you need a weapon! What weapon do you choose and what can it do?
That's a toughy, well as boring as it sounds I like the idea of a magical sword, just finished the last of the Sword of Truth novels by Terry Goodkind and I like the idea of a powerful sword (ooh err!). What could my sword do though? Well it could slice, dice and chop all those horrid enemies that I may have to face. The Sword of Truth had powers with in which meant it would only work when some one/thing who was a threat or danger. I feel my sword would also have some protective qualities too, so with it I could form a shield to protect myself! I also would like a wand like in Harry Potter etc, which may sound lame as it may not seem like much of a weapon but if you knew the right spells you could definitely do some damage. You could also magic up some fun stuff too!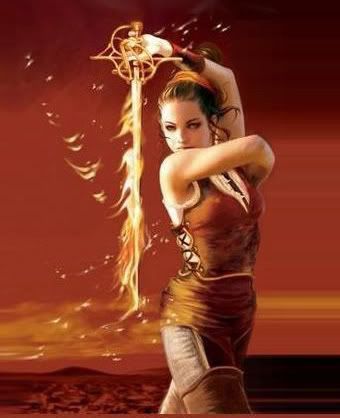 Oh and no one point out that the image above isn't one casting a deadly spell but conjuring up shoes and handbags! LOL!
3. To recharge and heal after being shot,
Atticus

sleeps naked, tattoos to the earth, in a patch of grass near the Civic

Center
in downtown Scottsdale. Where is the weirdest place you have ever slept?
Can't think of any really weird places I have slept really. I have nearly fallen asleep when I may have been a little drunk and out for a meal. I have also slept in a hammock several times with just a tarp as a shelter over our heads! That was with Hubby and Spike the adventurer. Hammocks are so comfortable to sleep in once you get use to the fact your not going to fall out!
4. We finally find out some very interesting information about Granuaile and I don't know about you, but I certainly wasn't expecting to find that she's sharing her head with someone else. What about you, did you expect anything along those lines? If not, what were you expecting concerning Granuaile?
I was so not expecting that when I found out about Granuaile. I could sense there was something about her but her sharing her head with a very powerful witch,now that was a shocker. Thinking about it I hadn't worked out what was the case out all with her until all the truth finally came out.
5. Laksha is a witch, a truly evil one at that for many of the things she's done in the past. However, she's supposedly seen the error of her ways. Do you think she really has? Would you be willing to trust her? Do you think Atticus is smart to have decided to trust her to help him with the "other" witches?
Now as with previous questions I find this tricky as I know how it all works out in the end. But trying to ignore my former knowledge, it appears she wants to help, all be it she has her own agenda but when I first read it I did think it was a risk but Atticus could probably trust her but I felt that she could/would potentially cause Atticus some trouble. But then again when is our sexy Irish Druid not in a bit of bother!
Well thanks to Jen for the fabulous questions, as always its been fun! Looking forward to reading what others have had to say.